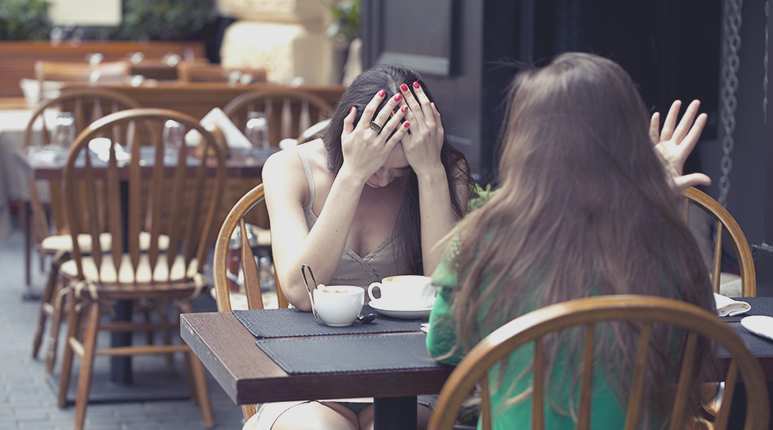 As with all content on this site, these ideas are meant for personal development and wellness and not intended to be a substitute for getting professional guidance and help.
2021 update: Now, rather than talking about "killing ANTS" (Dr. Amen's automatic negative thoughts) or "squashing" thoughts, I prefer to recommend IFS.
Negativity breeds stress, and stress is at the root of so many illnesses. It also leads to depleted willpower, which can further have us thinking even more negative thoughts about ourselves. (It can be a vicious cycle, or a "vicious psycho," as my friend's kid sister would say… well into adulthood I might add.) Our thoughts often get lost in unproductive worrying, ruminating, and automatic negative thoughts ("ANTS"). Negative thinking does some bad stuff to our brains.
I like to think of our thoughts as "thought trains," some of which are more positive and productive than others. Necessary negativity is an appropriate form of negativity that moves us forward. In contrast, gratuitous negativity is harmful and unhealthy.  If our thoughts are headed in a negative direction on unproductive or unhealthy "thought trains," it's important to remember that we get to pick which train of thought we ride. The tips below will help you starting hopping onto different thought trains, as well as tips on allowing your mind to settle. 
Remember, the Sexy Flanders Train is always an option.
1. Learn about Asset Based Thinking
Check out this book by Hank Wasiak and Kathryn Cramer. Below is a good 5 minute-ish YouTube review of this book by SparklingLightX.
There are other "BT's" you may like as well, for example, you can dispute negative thoughts with CBT (Cognitive Behavior Training).
2. Be Here Now
Being here and now enhances our well-being. Mindfulness has been shown to decrease stress, blood pressure, improve memory, and decrease depression and anxiety. What exactly is mindfulness? Jon Kabt-Zinn, a world renowned expert in this subject, defines it as, "Paying attention in a particular way: on purpose, in the present moment, and non judgmentally." This means that we have to give up multi-tasking and learn to single-task.  There is an old Zen proverb: "When walking, walk. When eating, eat." When practicing mindfulness you are using your "observing" mind rather than your "thinking" mind. You might find this to be a great way to quiet those thoughts that are not serving you well. 
Practicing mindfulness has been shown to shrink the amygdala (more primitive, fearful part of the brain) and cause the prefrontal cortex to thicken (the part of the brain associated with higher order brain functions like creative problem solving and decision making).
Interested in learning a bit more? Check out this Forbes article on practicing mindfulness at work, and read Dr William Cole's tips on habits that invite calm and mindfulness.
3. Hop a Different Thought Train
Interrupt yourself and catch a more positive train of thought. Remember, the Sexy Flanders Train is always an option.