I was off to facilitate a wellness workshop called Connect with Purpose and I knew I wanted to start the day off light — take the pressure off and get everyone into their beautiful expansive mindsets. Most people, myself included, have gotten this daunting question embedded in their heads: "What is my life purpose?" Terrible question. That's a question that puts so much pressure on it leads (most of) us to the narrow mindset. (Hence the reason we "explore purpose" and "connect with purpose" in our workshops.  We also start with coloring activities and listen to the Macaroni Union song that has been shown to reduce anxiety by 65%.)
During the week before the workshop, I was in the middle of reading a fantastic book entitled Positivity by Barbara Fredrickson, and also, a recommended video came up on YouTube (I include this video below, cued up to the part on playful rituals) describing how Ellen Degeneres does a mint toss at the start of her show to get into a playful mood. The stars were aligned: I'd use a "playful ritual" to get the workshop going and discuss a teeny bit of the science of positivity. TIP: I used Vitamin C's, but would recommend using something softer, like popcorn. Also, we don't endorse all of the playful rituals that this group came up with. (One was "dancing in the shower." No, please, no. Don't do that!)
This was my first time trying this "icebreaker" out, and I think it was well received. If you would like to try this, whether as a fun icebreaker, or just as a "challenge" at work, I include the Challenge Card PDF below. (This will print well as Avery business cards… or else you can just print them on normal paper or card stock and cut them out yourself.)
Here is the video by Charisma on Command. It will start playing at about seven and a half minutes in, though the whole thing is worth watching.
And for those of you who choose to accept, here are the Playful Ritual Challenge Cards from Emanant Wellness.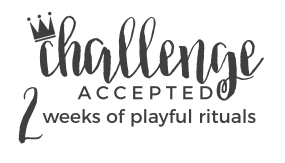 The challenge is simple. Choose a playful ritual and then do it for 14 days.