#1 Connect to the big picture… My kicka$$ intro to KPIs
When coming up with KPI's you want to make sure that they are balanced. Here is an example checklist I made based off of ITIL (Best Practice Service Management) guidance provided by Axelos.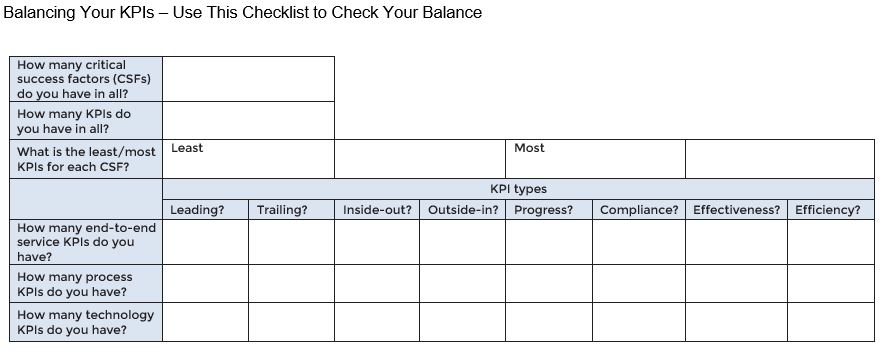 Incidentally, ITIL best practice (Axelos) also recommends filling out a worksheet for each of your KPI's. You would capture things similar to what you see above (is this a leading indicator or a trailing one? is this a progress, compliance, effectiveness or efficiency KPI?) as well as answering crucial questions such as:
What positive behavior will this KPI encourage?
What negative behavior will this KPI encourage?
#2 Appraise team member performance against key performance indicators
#3 Support and recognize team member growth and development
Be sure to recognize and celebrate growth and development, of the team as a whole, and for each individual team member.
Having a team KSA Matrix (Knowledge Skills Attributes Matrix) can help you track growth over time.
#4 Determine appropriate feedback approach
#5 Verify performance improvements
More Resources
The STAR Model: Close the Saying-Doing Gap to Build a High-Performing Team
(Watch on YouTube)
Go Deeper!
Feeling wobbly in the knees when it comes to business acumen? Go deeper into the difference between KPI's and OKRs!
(Watch on YouTube)
Get the Guide!
OnStrategy offers a free PDF guide on Setting OKRs that work! Check it out here.