Ah, summer. Since we're just about halfway through the season we thought it proper time to collect some of our favorite summer pastimes — ways to take advantage of the outdoors, meet new people, take care of yourself, create fun events for friends, and of course, eat. Hopefully, this list gives you some fun ideas for the coming months, and we hope to see you share some of these activities with us on social and beyond!
1. Go on a sunrise hike — We know it's hard to wake up at the crack of dawn, and we promise we won't ask you to do it again too soon, but there is something to be said for taking advantage of the summer: get up early and break a sweat while you watch the sunrise. Pick your favorite nearby trail, or go for a walk on the beach and take a moment to appreciate the season.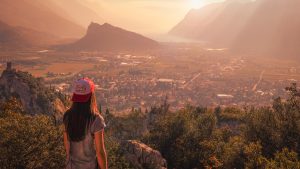 2. Put together an outdoor Netflix screening with your friends — Track down your friend with a projector, and DIY yourself a screen [inspiration here]. Have some friends over and serve some summer cocktails (or mocktails) in the yard, while you binge your favorite shows or movies with friends, taking in the lovely outdoors. [In case you were wondering, yes, yes you do get extra Wellness Bucket points if you watch a documentary on health and wellness. Netflix has quite a few good ones!]
3. Change lanes — Sometimes it's hard to motivate yourself to exercise on those hot summer days, and going to the gym somehow seems even worse. Next time you're feeling the heat, head over to your nearest YMCA or swimming facility, and hit the lanes — or even better: jump in the ocean. Swimming is a great way to break a sweat without overheating, and it will be a welcome break for your joints, as it's one of the most low-impact exercises available. If this sounds really fun to you, think about joining a Master Class or adult Swim Team — a great way to make friends and stay cool through the summer months [and maybe beyond, who knows?].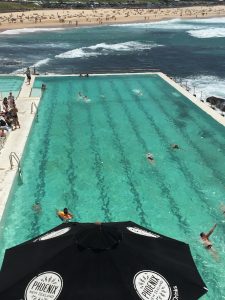 And if you feel like being a non-traditional beast. you can try Boga Fit:
4. Utilize summer produce – Not to sound cliche and offer yet another recommendation to go check out your farmers market… Well, you know where I'm going with this… There is nothing better than the smell of ripened peaches, fresh corn, and shiny red tomatoes to get your mouth watering, and outside of getting some of the freshest, most sustainable produce available, there are a number of other benefits to be found at your local fruit stand. First, there is the act of getting outside, letting the sun soak your skin, then there is the act of building relationships with your local farmers, giving the food a special meaning when you enjoy it later. If that didn't sell you, check out some of these recipes for additional inspiration: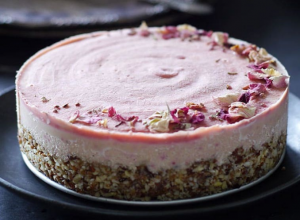 Raw Peach Cheesecake by the Unconventional Baker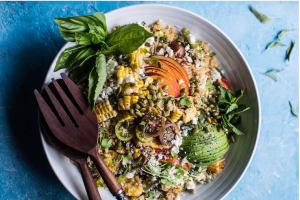 Thai Grilled Corn and Peach Quinoa Salad – Half Baked Harvest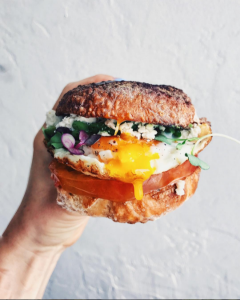 Breakfast bagel goals by Lee Tilghman (@leefromamerica)
5. Keep your skin safe and clean — It has been argued by many that the most important piece of your beauty regimen, when it comes to going non-toxic, is your sunscreen. You've heard about the chemicals in conventional sunscreens contributing to the decimation of the oceans coral, but what you may not realize is that the same ingredients could be wreaking havoc on your skin and beyond. These common sunscreens cause inflammation, release potential endocrine disruptors and cancer causing agents found in most synthetic beauty products. Their all-natural counterparts, however, are full of minerals and arguably one of the most effective anti-aging creams available. Mineral formulas, especially those with titanium dioxide and/or zinc, are great because they don't clog pores, cause allergic reactions and are almost instantaneously effective (compared to conventional sunscreens that take up to 20 minutes to take effect). Here are some highly rated natural brands to look out for: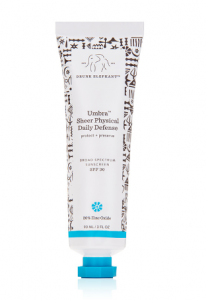 Drunk Elephant Umbra Sheer Physical Defense SPF 30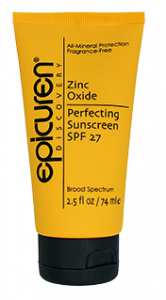 Epicuren Zinc Oxide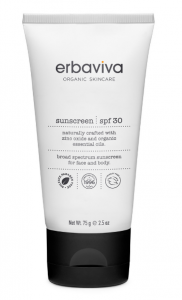 Erbaviva Sunscreen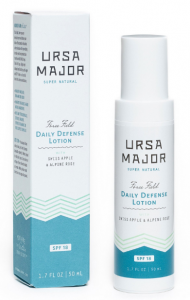 Ursa Major Force Field Daily Defense Lotion with SPF 18
6. Free your mind — escape into a book, devour it on the beach or on a train heading for your next adventure. Wherever you are, you will feel 1 million miles away.